I write this today because it was recently brought to my attention that I make my dogs work too hard for their dinner. My parents think it seemed more cruel than appropriate that using a dog's food for enrichment and feeding activities is cruel because it's forcing them to do things against their will in order to eat. This blog will discuss various ways to stimulate your dog's brain and mental. The majority of the the products will be canine enrichment through the use of food.
According to Wikipedia, the definition of enrichment is to make something better, more rewarding or more meaningful. The purpose of canine enrichment, therefore, is to make a dog's life better, more rewarding and meaningful.
In the twenty-first century, the majority of our dogs are kept as pets and companions to our families. The majority of our dogs don't have a job working alongside us. They can't usually go to the office with us. The majority of families in the United States believe a dog only needs the emotional affection of the family members. Few families supply physical enrichment such as running, fetch, play dates with other dogs. How many of us have even thought about the mental stimulation needs of our dogs? I wish I remembered where I read the following comparison. They compared the life of a dog to the of a rug; day after day dogs lie around the house and occasionally trip us over.
Dogs are unique because they have learned to be completely dependent on us to provide for them. Dogs are not rugs; they still have the most amazingly complex brains which like all brains, requires stimulation to make it work properly. As owners, we more times than not just plonk the food down in a bowl. 30 seconds of something to do and then… nothing.
We have split this blog into four sections. Canine Feeding Devices, Treat Puzzles, Electric Remote Dispensing Devices, and finally the Do-It-Yourself Homemade Devices.
Canine Feeding Devices & Slow Feeders
The following examples of Canine Feeding Devices that make the dog work in some way for their food. These devices are also useful for our dogs that love to eat in "Super Speed Mode."
An action-packed treat and food dispensing toy. It sits upright until pushed by a dog's paw or nose and then periodically dispenses tasty rewards as it wobbles, spins and rolls.
When a dog pushes the RePlay, this next generation of treat-dispensing toy rolls away, then rolls back on its own. It is completely paw powered, and the irresistible return motion engages the savviest of pups, inviting them to push again, fueling more rollback fun. As it rolls, it dispenses treats to reward the fun while providing healthy mental and physical stimulation.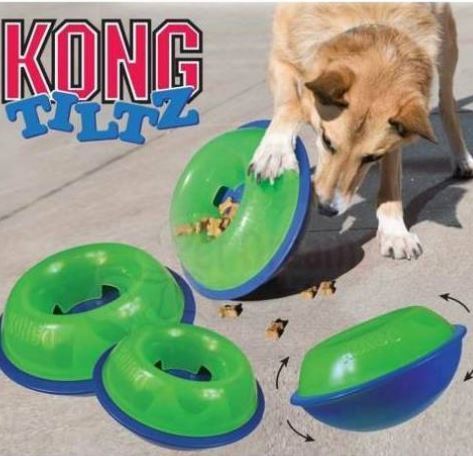 As your dog tilts, spins and rocks the toy, treats are erratically dispensed for added engagement and enticing fun.
With the center spinning orb and static outer ring, this dynamic toy encourages dogs to push, paw and roll the gyro, delightfully dispensing tasty treat rewards along the way. Ideal for Independent play, stuff with Snacks or kibble for added fun and extended playtime. Available in large and small sizes.
Dog Pyramid by Nina Ottoson
There's no telling which way this fun toy will go, but there's always a tasty treat guaranteed. Fill the top hole with treats or kibble and watch your pup paw and nuzzle the Dog Pyramid for hours on end.
Treat Tumble
by
Nina Ottosson
Nina Ottosson's Treat Tumble is a rolling, bouncing, treat filled ball your pup will love! Fill the ball with treats or kibble through one of the two holes and watch your furry friend bat, push, and roll the ball for tasty rewards.
This challenging ball entertains big dogs for hours. Insert dry food or treats in the Tricky Treat Ball and as a pet plays, treats are dispensed.
The Twist 'n Treat is the first and only 2-piece adjustable rubber treat dispensing toy. The rate of treat dispersal can be adjusted to suit the interest and ability of the dog. Coming in four sizes ranging from Extra-Small to Large
Pet Stages Challenge Ball
Made with 100% natural rubber that is great for occupying and challenging your dog. Made with 3 adjustable levels for increased difficulty. Great for chase and fetch, this ball is ideal for 2-in-1 play acting as a treat dispenser and ball all in one
IMPROVES DIGESTION - These dog bowls naturally improve digestion by allowing dogs to forage for their food through the fun patterns and mazes
PROPER PORTIONS- The Large Fun Feeder Slo-Bowl holds up to 4 cups of dry kibble, the Small holds 2 cups & the X-Small holds 3/4 cup.
Treat Tower wobbles and out comes treats. The treats are easy to insert and the difficulty level can be adjusted as your dog learns how it works. Available in 2 sizes.
Snoop is translucent and squishy with a deep crevice that conceals the treasure. Filled with treats, dogs will pounce, nudge, nose, and nibble to release the hidden reward. This interactive puzzle toy offers hours of long-lasting, brain-stimulating entertainment for dogs of any size. For extra credit, insert any 2.5" toy ) for a double puzzle.
You can put a portion of your dog's meal in the ball, only allowing them to eat what is dispensed when the ball is rolled. It can be filled with treats or kibble and set to a desired difficulty level using the ball's adjustable interior disc. This toy promotes active feeding, giving your dogs the exercise they need and then rewarding them for it!
Make food even more interesting to your dog by giving them The Odin filled with treats. They'll work off their energy rolling and tossing it around and get rewarded for their effort.
The following are simple devices you can find on the market:
Lets face it, dogs are not free to do as they please. Lets face it, they are basically captive animals similar to those exotic animals in zoos. Even in the modern zoos, they are expected to offer some sort of enrichment activities for their captive animals. These activities and enrichment programs go some way toward improving the animal's lives and replacing activities they might do in the wild, such as foraging for food. Its purpose is to maintain physical and mental health. It helps prevent boredom and behavioral problems which often stem from a lack of mental stimulation. This is of course is the very least we can do for animals kept in captivity.
Now don't our pet dogs deserve the same? Don't they deserve to use their brain? Our dogs are part of our family. What would you think would happen if you left a three in the kitchen with a pack of Crayola Markers, a coloring book, and you walked away for three hours? Eventually that child will become bored and begin to use their artistic freelance skills on your kitchen table and walls. Why? because they were not given ample opportunity for stimulating enrichment.
Dogs, just like children and animals in zoos, need something interesting to do with their day. Without any sort of mental stimulation, our dogs can often develop behavior problems, depression, stress and general poor welfare. Doesn't our pet dogs also deserve enrichment? Shouldn't our dog's life be as interesting, stimulating and worthwhile as possible?
Smart Beginner Dog Puzzle Toy
Nina Ottosson Dog Tornado Puzzle Toy
Nina Ottosson Puzzle Brick Dog Toy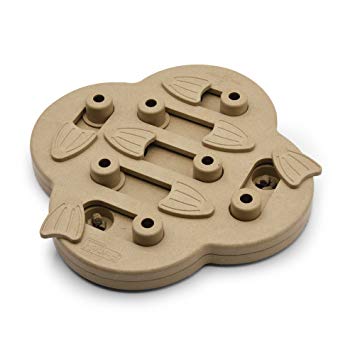 Nina Ottosson Puzzle Hide N' Slide
DIY SECTION

Now a days, dogs are kept safely indoors and the lucky ones might get to go for a walk with their human each day. But what do they do for the rest of their time? How do they fill the activity void? Where do they get their mental stimulation? Look at the work ethic of some of the working breeds such as the Border Collie or Springer Spaniel. Is it really likely that our pet dogs are so far removed from the working lines that they are happy to do absolutely nothing with their life.
We don't live in a perfect world and most dogs don't get the stimulation or exercise they need. Approximately 45% of all dogs are thought to be overweight. Instead of feeding from a bowl, use that food to get their mind working.
Some very simple things can make a real difference. Weigh out the daily food (so you are not under or over-feeding) and….
You can hide around the house and play find

You can wrap it in a towel

You can use it for training

You can take it on your walk

You can scatter it across the floor

You can make a food trail, stuff it in a Kong® and let them eat when you eat

You can put it in your empty food boxes and let the dog rip it open.

You can place your cushions on the floor with a piece of food under each one

You can use a stack of plastic cups with food between each cup

You can save the empty toilet rolls and hide food inside.
Allow them to stop and sniff and be interested in things; it doesn't have too be difficult or immensely time-consuming, let them chill-out when they want to but make life interesting and make it worthwhile.
The vast majority of animals spend a huge proportion of their time trying to acquire enough food; you could say, it's what they live for. No species in the history of the world has ever needed food placed in front of them in a bowl. Dogs are no different.
Canine Enrichment does more than just alleviate boredom. Animal Shelters have reported that enrichment use can make actually dogs more adoptable. It can also help dogs live a longer, happier life, and even improve your bond. Enrichment doesn't take a lot of time or money. Many of these tips are low maintenance and take just a few minutes, but will go a long way with your dogs.

KONG
Kongs are so useful that we had to make a section just for this product. Fill your Kong with anything, and stick it in the freezer. You got yourself a device to occupy your dog's time. The photos below are courtesy of AS.


TECHNOLOGY ADVANCEMENT ENRICHMENT DEVICES
The Treat & Train remotely dispenses kibble, dry dog food, or treats of uniform small sizes (round tends to work best). Most dogs will readily learn to earn their meals and it's great for them! It is an incredibly useful positive dog training aid. With the Treat & Train you will be able to:
Reward your dog's good behavior by remote control even while you are out of sight. Up to 100 ft away, and even through walls!. It has settings to automatically feed a treat every few seconds or minutes.
Train obedience commands such as "down", "stay", "sit" and "come". Train your dog to be calm when guests arrive and to stop jumping up on or barking at guests. Crate train your dog or teach your dog to be calm when alone. The Treat N Train is great for preventing and working with mild separation anxiety. Train your dog to lay down politely instead of begging at the table. Train your dog to calmly accept grooming such as nail trimming and brushing. Prevent your dog's boredom while he recovers from an injury or surgery and cannot exercise much.
Very similar to the Treat & Train, this device is a little bit less expensive that the first one. The Treat N' Praise can only be used to reinforce your pet's good behavior from up to 25 feet away. Use for activities such as stay, to stop barking and other training activities as stated above. It also comes with a handheld remote that activates treat dispenser. Unlike the Treat & Train, this device can be mounted to the wall or inside of a crate. It works with dry kibble or treats up to 1/2 inch in size (slightly smaller than a dime).
PetTutor by Smart Animal Training
PetTutor is the cream of the crop device on the market today. It comes with all the bells and whistles if you so desire. Crate Adapter, Wall Adapter, Bowl Adapter, Bluetooth Remote capabilities of up to 500 feet away. Just insert two D-Batteries and take it on the road with you. Plug it into the wall and use it in your house. This device even has an app that is so simple to use even a caveman can do it.
ARF Pet Dog Puzzle Dispenser
Designed for memory improvement and exercise, the versatile activity trainer encourages your pet to run and play by rewarding with treats: Each time your dog presses the remote release button, an exciting sound plays, and treats dispense into the feeding tray. Increase the difficulty level by placing the remote release unit in another room. Give your dog a healthy dose of daily exercise and a doggone good time with the activity trainer from Arf Pets.
All For Paws Interactives
EVER PLAY A SLOT MACHINE??? This is a slot machine for dogs with a 100% chance of winning every time.
A Smart way to teach your dog new tricks.Place the wireless button a few feet from the lucky treat, when its light turns on ask your dog to push on it. when he does he will be rewarded with treats that comes out of the lucky treat base. Your dog will always be the winner.
Long Story, Short… A video game for dogs.
This device truly exercises your dog's mind and body. CleverPet has 12 levels or "challenges" that advance automatically depending on your dog's progress. The levels start off easy, but they remain just difficult enough to keep your dog busy and out of trouble for hours each day.
So, is canine enrichment cruel? or is it crucial?
Each and every product shown and discussed on this page has been tried and tested by one of my four legged friends. A special thanks to you for continually encouraging me and supporting me over the past year or so. Your words and actions will never be forgotten. BYE FELICIA!!

Disclosure: I am not an English major so grammar is not my best attribute. Please email me if you find any grammatical errors. Please email me if you have any comments, concerns, or questions. I can be reached at midatlanticcanine@gmail.com
Sam Valenza

Check out some of our other Blogs!